Rococo
Characteristics
Gender
Female
Status
Alive
Status
Occupation
Azudora's Subordinate
Affiliation
Demon World
Media
Manga Debut
Chapter 1
Rococo (ロココ, Rococo) is a subordinate of Azudora and was the commentator for the Demon King Tournament.
Appearance
Edit
Rococo has a slim build with long greenish blonde colored hair and bangs that cover her eyes. She keeps her hair tied in either long twintails or as buns.
Personality
Edit
Save the Humans Arc
Edit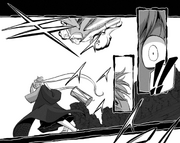 Rococo is giving food to Haraolle. Haraolle asks Rococo what her eyes did to him. She tells him that her eyes' ability "brings a little honesty out of you." She tells him that he did not really want to kill her. Enraged, Haraolle shouts at Rococo until she finally leaves.
Abilities & Powers
Edit
Miscellaneous Abilities
Edit
Eye Ability: Rococo's eyes have the power to "bring a little honesty" out of the one who looks into them. Her ability is able to bring a tiny part out of a person's true intentions, although most people are not affected by them.
Major Battles
Edit
There's a rumor that if a person looks into Rococo's eyes, they'll fall in love.
References
Edit
Ad blocker interference detected!
Wikia is a free-to-use site that makes money from advertising. We have a modified experience for viewers using ad blockers

Wikia is not accessible if you've made further modifications. Remove the custom ad blocker rule(s) and the page will load as expected.