Doruushi
Characteristics
Alias
Iron Wall Doruushi
Gender
Male
Status
Alive
Height
300 cm (9'10")[1]
Abilities
Abilities
Defense Magic
Status
Level
45 (Power)
Affiliation
The Empire
Media
Manga Debut
Chapter 1
"Iron Wall" Doruushi (ドルーシ, Dorūshi) was one of the contestants for the next Demon King to replace Tooru.
Appearance
Edit
Personality
Edit
He is a caring person. He loves chocolate.[2]
Human Assault Arc
Edit
Save the Humans Arc
Edit
Shortly after the human tower begins moving, Doruushi and the Urum Castle Defense members are informed of the tower's movement. Doruushi and the Urum Castle Defense members continue to work on the technique to save the humans as the snow approaches.[4]
When New World organisms start attack Urum castle, Doruushi, Theta, and Liliabba are asked to reinforce the barrier of Urum castle.[5]
Abilities & Powers
Edit
Doruushi was one of the finalists for the Demon King tournament and excels in defense magic.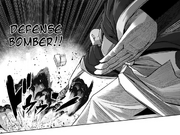 Defense Magic: Doruushi uses magic that mainly serves as defense, but can be used offensively as well.
Defense Bomber (防御ボンバー, Bōgyo Bonbā): [6]
Physical Abilities
Edit
Enhanced Speed and Reflexes: Doruushi is able to see through and dodge the attacks of awakened humans.[7]
Enhanced Strength: Doruushi push back an awakened human several meters.[8]
Equipment
Edit
Staff : Doruushi uses a staff to assist himself in combat.
Major Battles
Edit
Doruushi vs Mikaros
References
Edit