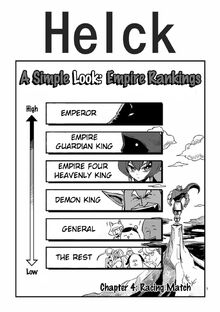 Demons (魔族, Mazoku) are the dominant species in the world, as they outnumber most other species. The Demons in the world of Helck live in the Great Empire Where the Dragon Resides and have an hierarchical ruling system.
Overview
Edit
Demons are a powerful species that possess abilities that allows them to overpower most other species with ease. They are composed of many races, each with very unique attributes. Demons were created by the Ancients as vessels for mind transfer.[1]
Thousands of years ago, the human nations and the empire were constantly at war.[2]
Empire Guardian King
Edit
Heavenly King
Edit
Main Article: Four Heavenly Kings
There are only four at any given time. How they are selected is currently unknown, but upcoming heavenly kings are trained by demons that currently hold the position.
Demon King
Edit
Main Article: Demon King
The Demon Kings are selected through tournaments after a Demon King has fallen.[3]
References
Edit
↑ Helck Manga; Chapter 90, page 13
↑ Helck Manga; Chapter 61, page 17